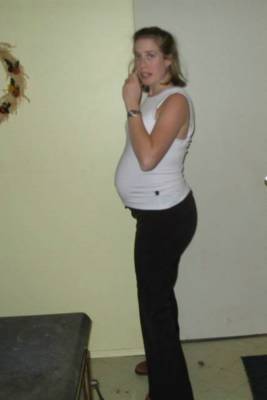 Baby Salmon is 24 weeks today.
Derek caught me off guard with this pic tonight but it shows my belly and you can even see that my belly button has officially "popped." Not fully out, but definitely popped. For those of you who think its really early to have done that, a little factoid about me is that i had an outie until i was like 8 or 10 years old, so it has come back to visit!
Derek and I went on a tour of the Maternity ward tonight. It was very weird...i can't believe i'm having a baby! Derek thought it was exciting and I just thought "Wow, this is serious stuff...I have to deliver a baby here!"
The rooms are seriously enormous. There is a bathroom with a full tub and shower, TV and free telephone (local calls). One tiny bed for me to have my labor and delivery. There is a pull out couch for Derek to sleep on. I think our friends will have to bring lawn chairs and hang out AFTER the baby is born, there's seriously THAT much room! So friends, if you're out there somewhere and reading this, figure out a way to smuggle in some lawn chairs and you can come visit the new Salmon baby in comfort.
Its pretty cool, pending that all goes smoothly, they never take your baby out of the room until you leave with him/her.
Derek and I received an invitation to our first baby shower!! It will be held in North Augusta Ontario on December 26th, hosted by Derek's cousin Sharon and Aunt Judy. We went to Walmart and started a baby registry (its a brand new registry they just set up and you can use a scanner to pick all your items just like at Sears or The Bay). We need to go back and check out the strollers a bit more. We are also going to register at Sears because there is a crib there that is really nice that my friend Alex has.
Anyway, looking at all the baby stuff is exciting...wow what a day that will be when we bring the little one home and see how he/she adapts to the bassinet and us as parents! Yay! we're on our way.
peace