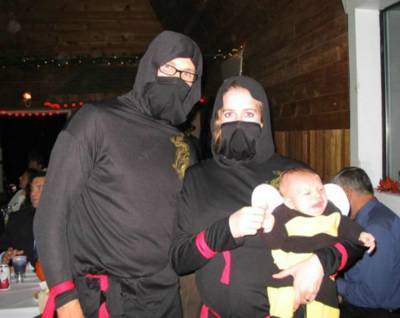 Derek and Amanda dressed up as Ninjas with Miles the Bee.
we were the only ones dressed up at the ceremony...the invitation said the wedding was at 3pm with reception to follow. It didn't give any times, so we didn't know there would be a break...there was a big break in fact. Dinner was served at 6pm.
Andrew and Heather were supposed to dress up with us, but decided to wait until the reception (but didn't actually tell us that ahead of time). So we were the ONLY ones at the wedding dressed up.
Apparently, someone asked the wedding party if we were muslim and sitting at the very back because of our religion. Oh dear! Anyway, I am pretty sure we will never be in that situation again, going to a Halloween Wedding, but if we ever are, we'll know not to dress up. grrr....